Vat Phou festival to be downsized
The annual Vat Phou festival in Champassak province will take place as usual from February 14-16 but events will be limited to prevent large crowds gathering and heightening the risk of a Covid-19 outbreak.
The Deputy Governor of Champassak province, Mr Som Bouthtakoun, said this year's festival will not have an opening ceremony attended by leaders from other provinces.
The festival will consist of a market fair selling local One District, One Product items, some sports competitions, and the offering of alms and candlelight processions at the Vat Phou temple complex.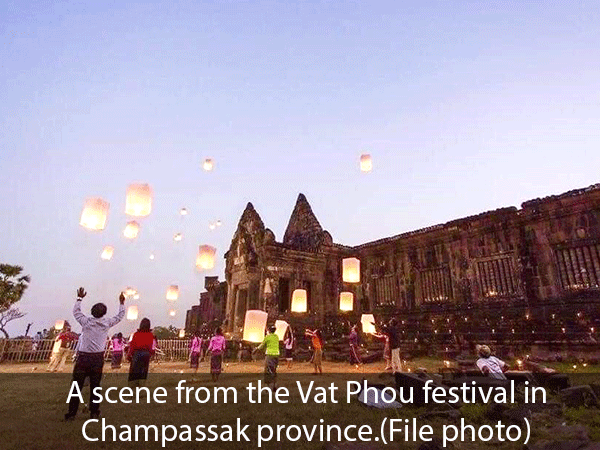 All events will take place in line with the standard Covid rules and medical workers will be present to provide information about Covid prevention.
Everyone attending the festival will be required to follow the virus control guidelines issued by the provincial Covid-19 taskforce.
The annual Vat Phou festival is a major event and usually takes place over several days with a colourful programme that includes concerts, parades organised by local residents, and exhibitions of local products.
The temple ruins are more than 1,000 years old and the festival is held to revere the temple complex, which is a Unesco World Heritage Site.
Champassak province has 216 officially designated tourist sites, including 116 natural, 60 cultural and 40 historical places of interest, but only 20 have any visitor facilities.
Among the area's natural wonders are Khonphapheng, Tad Fan and Tad Yeuang waterfalls, with activities ranging from adventure treks and ziplining to rest and recuperation in the lap of nature. Visitors can also enjoy produce from the Bolaven Plateau, including its famed coffee.
Tad Yeuang waterfall recently earned an Asean Sustainable Tourism Award.
The award aims to inspire tourism authorities in Asean countries to develop tourism products, address environmental and economic problems caused by the rapid growth of tourism, and improve their tourism products and service to meet Asean standards.
Southern Laos has numerous tourist attractions, both nature-based and historical. Champassak is one such place and no one should miss a visit to this scenic region during their stay in the country.
By Times Reporters
(Latest Update February 7, 2021)