Vientiane authorities order lockdown in red zone villages

Vientiane authorities have ordered a 14-day lockdown in so-called red zones of the city where the highest number of Covid-19 infections have occurred.
During a meeting of the National Taskforce for Covid-19 Prevention and Control last week, Deputy Prime Minister Professor Dr Kikeo Khaykhamphithoune instructed city authorities to implement the lockdown in the red zones of Fai, Phonxay, Dongpalane, Nongchanh, and Phonsinuan villages in Xaysettha district.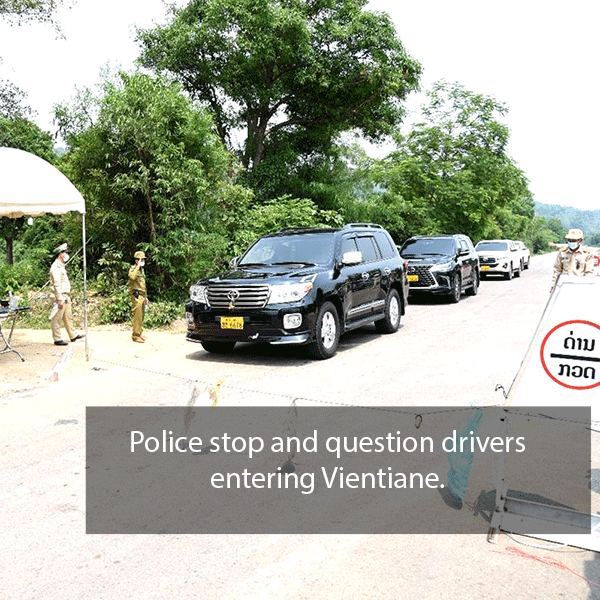 The extended lockdown comes after numerous infections were recorded in Fai village.
Government officials and workers in red zones will not be allowed to go to work, while markets in these villages, including Khuadin, as well as factories will close.
The tough measures are aimed at preventing the spread of Covid-19 in residential areas.
Authorities will also ensure that the lockdown rules are being observed in yellow zones (areas that border red zones) such as Phonsavanh-neua, Kaoyort, Phiavat, Thatkhao, Sailom, Phonsaart, Nongbone, Naxay, and Saphangmor villages.
Outdoor activities, gatherings and exercise are banned on the That Luang esplanade, the That Luang Marsh Specific Economic Zone, and alongside the Mekong River in Donchanh.
The government has extended the lockdown until May 20 amid a gradual increase in the number of Covid-19 cases.
Vientiane has recorded the highest number of cases, followed by Bokeo and Champassak provinces.
As part of efforts to contain the virus, the government and local authorities have imposed travel restrictions and banned people from leaving their homes unless necessary.
Health officials urge anyone who believes they have come in contact with an infected person to self-isolate for 14 days.
People who need to leave their homes are advised to wear a face mask, regularly wash their hands with soap, and avoid touching their mouth and eyes.
The taskforce said new strains of Covid-19 can affect everyone, including young children and older people.
By Phomphong Laoin
(Latest Update May 17, 2021)