Vientiane police net huge drug haul
Police discovered almost 17 million amphetamine tablets when they stopped a truck on the 450 Road in Xaythany district, Vientiane, on Tuesday.
They arrested the driver of the truck but three other men travelling in the vehicle fled the scene.
An official at the Public Security Office in Xaythany district told Vientiane Times that personnel from Police Station 1191 in Saphangmeuk village were patrolling the 450 Road at 10am on July 13 when they spotted a suspicious vehicle.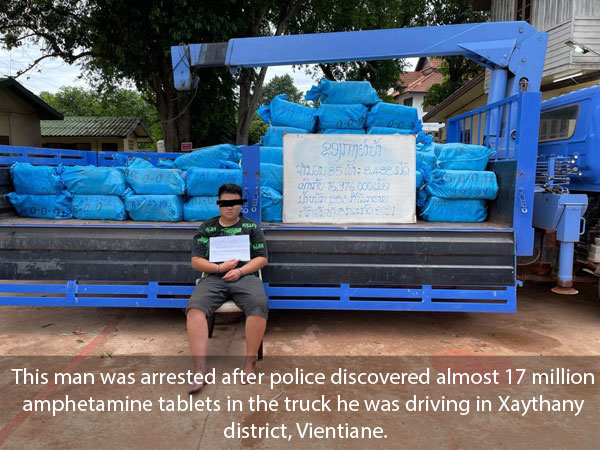 They ordered the truck to stop but the driver ignored them and carried on, while another vehicle tried to block the police car. Police pursued the truck until it reached Nakhae market, where the driver eventually stopped.
Four men got out of the truck and attempted to run off. Police arrested the driver, identified as Mr Nengxong, after he injured his leg when he jumped down from the cab, but the other three escaped.
When they examined the truck's load, police discovered 85 bags of amphetamine containing 16,976,000 tablets and weighing 1,953kg.
They believe the truck had come from the south of the country and are carrying out investigations in the hope of identifying others involved in the drug ring.
This year, police across the country have made numerous arrests and seized large quantities of narcotics as part of a nationwide crackdown on drug trafficking.
In Oudomxay province, police and soldiers recently uncovered a drug production base in Xay district, arresting eight people and seizing over 1,000kg of amphetamine and crystal methamphetamine.
A search of two houses in Phousavanh village revealed 1,469,999 amphetamine tablets weighing 139.2 kg, 846.5kg of red powder used in the production of tablets, 3kg of crystal methamphetamine, 8,791 tablets of another type of amphetamine, 17.2kg of a drug precursor chemical, and other items.
Police also discovered the drug production base. A search revealed two machines used to make amphetamines, as well as 43,956 amphetamine tablets weighing 4kg, 1kg of crystal methamphetamine, a quantity of drug precursor chemicals and other production equipment.
During another house raid, police uncovered a stash of 162,800 amphetamine tablets.
One the men arrested during the raid told police he had been involved in the production of amphetamines since February this year and worked with others as part of an extensive network.
Police are pursing enquiries into the group's activities in the hope of obtaining information that will lead to further arrests.
By Times Reporters
(Latest Update July 16, 2021)