Vietnam gives boost to Laos' battle against Covid

The government of Vietnam has donated US$ 2.21 million as well as medical equipment worth US$ 2.27 million to the Lao government for use in the response to the Covid-19 outbreak.
The financial support and medical supplies were handed over on October 25 by Vietnam's Deputy Foreign Minister, Mr Nguyen Quoc Dung, to the Lao Ambassador to Vietnam, Mr Sengphet Houngbounyuang.
Mr Sengphet thanked the Vietnamese government for its contribution to Laos' efforts to prevent the spread of the Covid-19.
He expressed his deep appreciation and gratitude to the government and people of Vietnam for providing medical equipment and financial support for this purpose.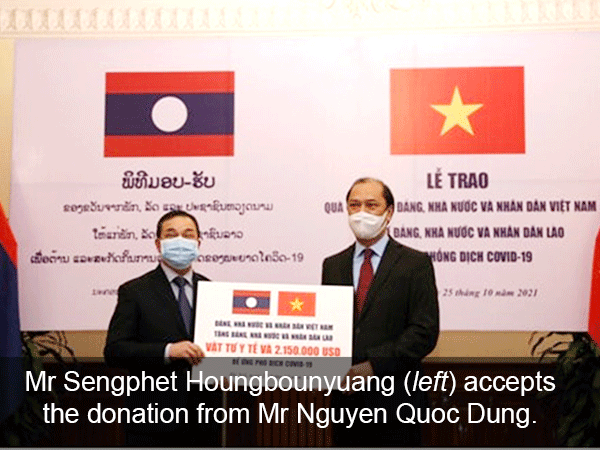 The number of Covid cases in Laos is increasing, putting added pressure on efforts to contain the outbreak.
Vietnam's assistance is a significant contribution to efforts to control the spread of the virus.
"We will make full use of the money and materials donated by Vietnam and will do our best to prevent the further spread of Covid-19," Mr Sengphet said.
At the same time, he stressed the need for more cooperation from all sectors of society in the battle to curb the outbreak.
A Vietnamese representative said he greatly appreciated the contributions of all those involved, as this will reinforce the Lao government's efforts to contain the virus.
He said the Vietnamese have promised to stand shoulder to shoulder with the Lao people at this challenging time, jointly strengthening epidemic prevention and control, and steadily enhancing bilateral cooperation.
Vietnam has been an active provider of assistance to Laos in the fight against Covid-19 and has provided a number of aid packages, he added.
In May this year the People's Army of Vietnam provided four medical specialists and equipment to bolster Laos' response to the virus outbreak.
At the start of the pandemic, Vietnam provided similar assistance, delivering medical supplies worth more than 2 billion kip (over US$300,000) in April last year.
The shipment included 330,000 face masks, 1,000 sets of protective clothing and other essential equipment.
The leaders of Laos and Vietnam have pledged to work together and help each other overcome the pandemic through mutual support.
By Phetphoxay Sengpaseuth
(Latest Update October 27, 2021)