World Bank highlights opportunities and challenges for Lao economy
The Lao economy is projected to steadily recover in the medium-term, but growth will remain below pre-pandemic levels at 4.5 percent in 2022, according to a new World Bank report.
The World Bank's "Economic Monitor for Laos A Path to Recovery" highlighted the economic outlook and risks that could threaten the growth of the Lao economy in the coming years.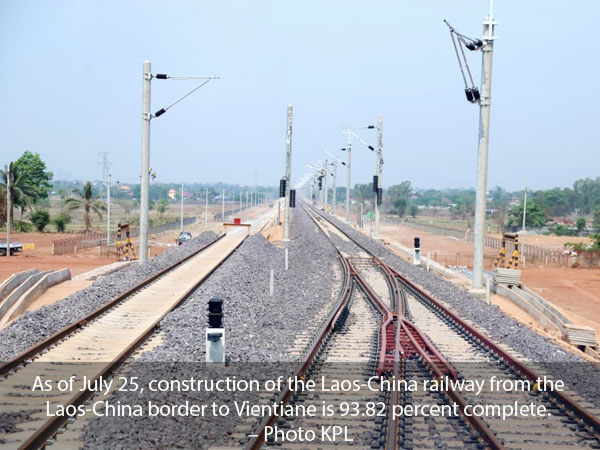 "The recovery is expected to be supported by solid export growth as external demand rebounds, a gradual recovery of the services sector and investment in infrastructure. After the conclusion of the Laos-China railway this year, the development of secondary infrastructure is expected to take place along the railway corridor," the report said.
There are also plans for investments in mega projects, including an expressway between Vangvieng district in Vientiane province and the Laos-China border and other southern routes.
Exports will benefit from China's Generalised Scheme of Preferences for 97 percent of products exported by Laos, and the signing of the Regional Comprehensive Economic Partnership, according to the World Bank.
At the monthly cabinet meeting held in Vientiane recently, the government instructed different sectors to prepare for the official opening of the US$5.9-billion Laos-China railway project on December 2.
The government believes the railway link will stimulate economic activity and productivity for exports along the Laos-China economic corridor.
However, the World Bank recommended that momentum on business reforms and trade facilitation will need to increase to boost private investments and exports, and to maximise the benefits from improved regional connectivity.
This year, the Lao economy is projected to grow at 3.6 percent, down from the 4 percent growth anticipated in March 2021, according to the World Bank's Lao Economic Monitor. The growth is driven by agriculture and the industrial sector, following the rebounding of electricity, mining and manufacturing exports.
Laos' main exports to other countries, notably to China, include cassava, bananas, coffee beans, live animals and rubber, which accounted for nearly 90 percent of agricultural exports in January-May 2021.
The total value of agricultural exports increased from US$504 million in January-May 2020 to US$691 million in January-May 2021, supported by external demand and prices.
Conversely, the main risks that could interrupt economic growth in Laos include slower growth for key trading partners and delays in the rollout of the vaccination programme in the region, which is essential to revive international tourism and foreign investments.
Another challenge for Laos is a prolonged community outbreak, which is interrupting and delaying resumption of economic activities. The government is struggling to contain the spread of the virus.
Recent lockdowns imposed in several provinces negatively impacted the national economy and the livelihood of the people.
On top of that, persistent foreign currency liquidity constraints pose a risk to external solvency when debt service dues are high.
By Somsack Pongkhao
(Latest Update September 9, 2021)