Emergency relief expedited to help flood victims
Xayaboury provincial authorities are speeding up delivery of emergency relief to help thousands of people affected by flooding following heavy rain on June 13-14.
Tropical storm Koguma lashed central and northern provinces over the weekend, inundating villages and houses and leaving many people temporarily homeless.
More than 4,800 households in 39 villages of Xayaboury district have been affected but fortunately no one has been injured or killed, the province's Deputy Governor, Mr Phetthixay Sounvilay, told Vientiane Times on Tuesday.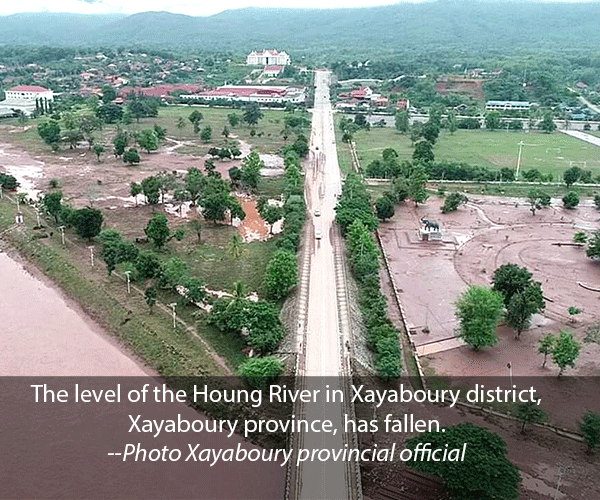 Xayaboury authorities have mobilised more than 1,000 soldiers and police from Xayaboury and Luang Prabang provinces, as well as government officials, to help with rescue and relief efforts.
"Many people are now in need of food and drinking water as well as clothes," Mr Phetthixay said.
Although the level of the Houng River has destroyed, many of the houses that lined the river are uninhabitable until they have been cleaned up.
Local authorities are preparing temporary accommodation with electricity and water connections, while roads, water and electricity supplies in flooded areas have been cut off.
An appeal has gone out for help from the public, calling for donations of food, drinking water, clothes and money. These can be handed in to the Xayaboury provincial office or sent to the office through transport companies.
At the same time, six villages in Phaoudom district of Bokeo province have been affected by flooding, where some houses were swept away by floodwaters, resulting in losses of more than 200 million kip, according to the Head of the province's Information, Culture and Tourism Department, Dr Somkhit Vongpanya.
Flooding has also damaged roads, bridges and student dormitories and provincial authorities are helping residents and inspecting the damage, he added.
Vangvieng district in Vientiane province has also been affected after the Xong River overflowed its banks, inundating local communities and resorts in the tourist hotspot.
Parts of Xieng Khuang province are also flooded and local authorities will report details of the situation as more information becomes available.
The Meteorology and Hydrology Department has forecast thunderstorms, heavy rain and strong winds in parts of the northern and central provinces from June 14-16, followed by higher temperatures and light rain throughout the country from June 17-20, with wind gusts in some areas of the central and southern provinces.
People should be prepared and keep track of forecasts issued by the department so they can prepare for a possible emergency.
By Siladda Souliyong
(Latest Update June 16, 2021)