Star Fintech to make u-money cash transfers under poverty reduction project

Star Fintech Sole Co., Ltd. is preparing to make cash transfers using its u-money system for the Reducing Rural Poverty and Malnutrition Project being carried out by the Ministry of Agriculture and Forestry.
The company is now conducting a survey prior to introducing the scheme in target village groups.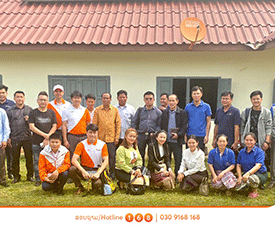 Star Fintech staff and government officials are carrying out a survey on the rollout of the u-money scheme in four northern provinces.
The Ministry of Agriculture and Forestry signed a contract in February on the use of u-money to make grant payments to the beneficiaries of the Reducing Rural Poverty and Malnutrition Project. This project is one of several projects funded by loans from the World Bank.
The project will be implemented in the four northern provinces of Phongsaly, Oudomxay, Huaphan and Xieng Khuang and will see the disbursement of funds to impoverished families and families who have recently risen out of poverty.
The initiative involves about 42,000 people who will receive a total of US$14 million over a period of four years.
The use of u-money will enable people in these provinces to receive money directly. As they live in rural and remote areas it would be difficult for them to get money from a bank or other facility because travel is difficult. But by using u-money they will receive money quickly and securely.
From March 9-15, staff from u-money, the Reducing Rural Poverty and Malnutrition Project and the Department of Rural Development and Cooperatives carried out a survey at the central, provincial and district levels to gather information on the rollout of the scheme within village groups in preparation for the first trial fund disbursement in 12 villages of 12 districts in Huaphan, Xieng Khuang, Oudomxay and Phongsaly provinces.
Trial payments will start this month.
The average disbursement through u-money will see each family receive 180,000 kip per person per month.
The project will transfer the funds directly to the beneficiaries' phone numbers. They can then conveniently obtain cash using their mobile phones through village u-money agents, Unitel staff or at a Unitel counter.
This is another step in the provision of payment services through u-money in remote and rural areas so that people can access funds quickly and easily. The system will help to alleviate poverty in a simple and direct way and enable people to have a better quality of life.
By Times Reporters
(Latest Update March 24, 2021)