Laos, Vietnam continue cooperation in agriculture, rural development
Laos and Vietnam have agreed to strengthen comprehensive cooperation in the fields of agriculture, forestry and rural development by 2025, with the focus on science and technology, personnel building, investment and trade.
An agreement on this cooperation was recently signed by the Lao Minister of Agriculture and Forestry, Dr Phet Phomphiphak, and Vietnam's Minister of Agriculture and Rural Development, Mr Le Minh Hoan Under the agreement, the two sides will work together at various international forums during 2023-25 with the aim of promoting and increasing cooperation between the two nations.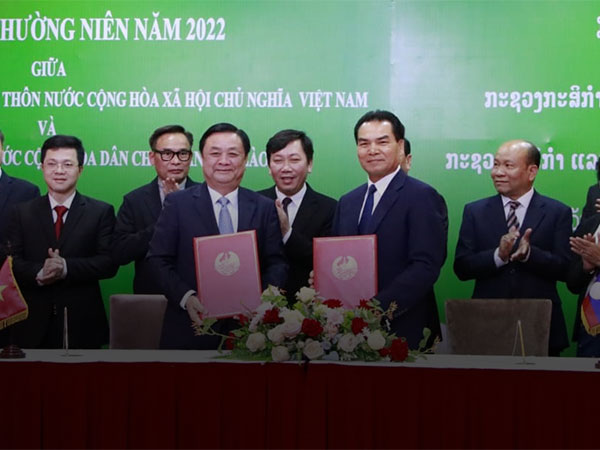 Dr Phet Phomphiphak and Mr Le Minh Hoan display the agreement documents at the signing ceremony in Vientiane.
They will also enhance technical cooperation between the two ministries by creating conditions for related technical departments of the ministries to share experiences and to help each other through meetings, study tours, and short-term training courses.
There will also be cooperation for improving the capacity of personnel, transfer of techniques and exchange of delegations, cooperation in plant and animal protection, animal husbandry and fisheries, and preventing disasters.
The Lao side will work to attract Vietnamese enterprises to invest in agriculture and processing in Laos, based on relevant policies and national laws in order to increase production and achieve international standards for exports.
The two sides further agreed to continue coordination in various sectors and localities to encourage more import-export trade between the two countries in processed agricultural products.
The two ministries will continue with work to build an agricultural technical service center in Xaysomboun with an estimated initial budget of 137 billion Vietnamese dong. They will also implement the Irrigation Master Plan Project in Xaysomboun province, which has an estimated initial cost of 9 billion Vietnamese dong.
Other collaborations include the Tam Nong project, which supports the creation of a rural agricultural development model and eradication of poverty in Navit village of Viengxay district in Huaphan province and Hoiy village in Khoun district of Xieng Khuang province, the construction of the Nam Khao irrigation project in Phoukoud district of Xieng Khuang province, and the irrigation system at Huai Pae reservoir in Xaysetha district of Attapeu province.
They will also cooperate to create a master plan for flood prevention and drainage in two targeted areas for food protection in Khammuan and Savannakhet provinces.
The two sides have also proposed additional cooperation projects according to the needs of technicians and local departments of the two countries. This includes 12 small-scale irrigation projects in Xieng Khuang and Huaphan provinces.

By Times Reporters
(Latest Update December 29, 2022)