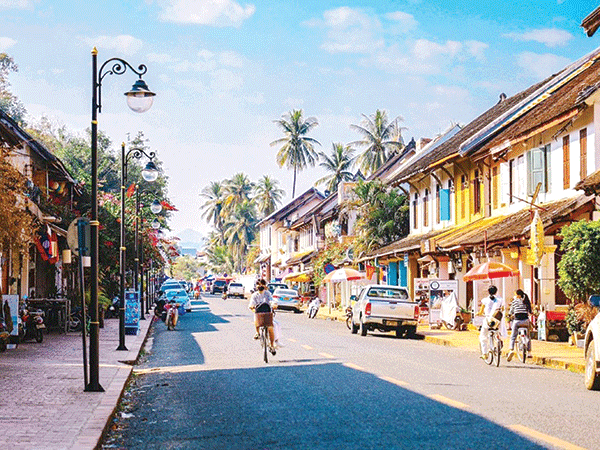 An enchanting location in Luang Prabang.
National Geographic names Luang Prabang as slow travel destination

National Geographic, one of the world's most widely read magazines, has named Luang Prabang as one of the Top Five Spots for Slow Travel in 2023.
Other locations highlighted by the magazine were the Dodecanese Islands in Greece, Ghana, Milwaukee in Wisconsin, USA, and Alberta in Canada.
Slow travel is an approach to travel that emphasises connection to local people, cultures, food and music. It relies on the idea that a trip is meant to educate and have an emotional impact, while remaining sustainable for local communities and the environment.
Luang Prabang is the first destination recommended for its community-led conservation efforts; groundbreaking work in ecotourism, sustainability and inclusive travel; and meaningful ways for travellers to give back.
World heritage-listed Luang Prabang has also been listed by Esquire Philippines as one of the 12 easiest places in Southeast Asia to go backpacking.
The American men's magazine highlighted the key features of 12 cities for visitors who want to have unique experiences on a budget, as Southeast Asia is home to centuries-old temples, interesting markets, wonderful beaches, and friendly local people.
These places are easily accessible and travel around the 12 locations is affordable due to budget airlines, ferries, buses and trains that connect one country to the next.
National Geographic also picked Laos among 25 top travel destinations for 2023, with Laos being the only country in Asean listed in the magazine's top breathtaking places and experiences for visitors.
The annual list of outstanding destinations is divided into five categories – community, nature, culture, family and adventure.
Laos is listed in the community category as being a place where conservation benefits everyone.
Tourism experts in Laos say it is the Laos-China Railway that has enhanced the country's accessibility and opened up places in the north such as Vangvieng, Luang Prabang, Oudomxay and Luang Namtha.
These areas are rich in traditional lifestyles and tourists can also view wildlife and enjoy jungle treks. The winter months from November to March are recommended as the best time to camp on hillsides and watch the early morning sea of mist that forms over hilltops.
By Times Reporters
(Latest Update November 15, 2022)