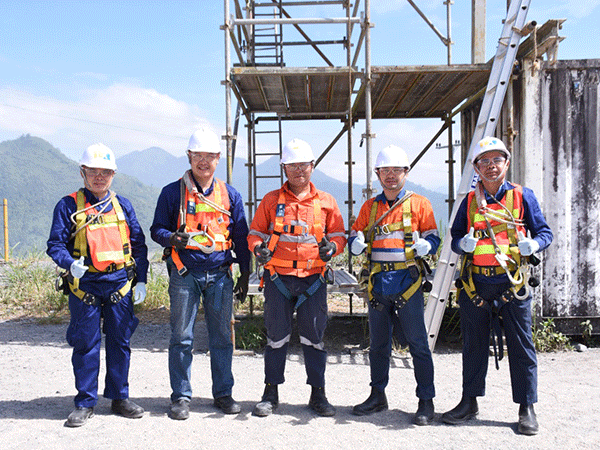 Electricite Du Laos employees learn more from a Phu Bia Mining trainer about safe techniques and the correct protective equipment to wear when working at heights.
Phu Bia Mining provides safety training for Electricite du Laos staff

Four electricians from the government state-owned electricity enterprise, Electricite Du Laos (EDL), have upgraded their safety skills through Zero Harm safety practices learnt from Phu Bia Mining recently.
Phu Bia Mining's commitment to health and safety is fundamental to how the Company does business. The Company makes the safety and wellbeing of its employees, contractors and communities its number one goal, so that everyone goes home safe and healthy every day.
The one-day training session, which focused on health, safety and wellbeing, was conducted at the Company's Phu Kham Copper-Gold Operation's Training and Development Centre in Xaysomboun province.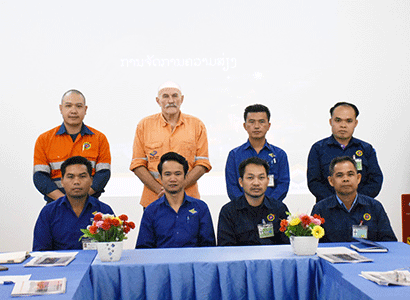 Phu Bia Mining's training team and Electricite du Laos staff attend a one-day safety training at the Training and Development Centre at the Company's Phu Kham Operation.
During the training, Company representatives explained that by its very nature, working in a mining environment can expose employees to many hazards and risks. To mitigate these, the Company has strict safety standards and processes in place that its employees and contractors must follow to ensure everyone's safety while on the job.
Before beginning any task, Phu Bia Mining's employees are required to follow safe work practices designed to identify health and safety hazards. This includes 'Take 5' and the Company's 'Cardinal Rules' - a five-minute step-by-step safety check and eight simple rules that help someone to identify hazards that can lead to serious injury or even death.

EDL's employees were also guided through other safe work procedures on how to manage risks in the workplace, isolate electrical energy, and work safely at heights.
Employees from Phu Bia Mining's Infrastructure and Road Maintenance department demonstrated ways to work safely in electrical maintenance, enabling participants to gain practical experience.
Phu Bia Mining Chairman, Mr Chanpheng Bounnaphol spoke about the importance of workplace safety and the Company's support to train government state-owned enterprise employees in world-class safety standards.
"At Phu Bia Mining, providing safety training to all our employees and contractors to ensure that everyone goes home safely is a priority," he said.
"As a major employer in Laos, we are committed to sharing the safety message beyond our operations. We are pleased to share our safety practices with the EDL employees. They are now equipped with important safety knowledge to share with colleagues and help maintain safe practices in their workplace," Mr Bounnaphol said.
By Advertorial Desk
(Latest Update November 15, 2022)