Govt inks deal on wind farm in Xekong and Attapeu

The government has given the green light to Monsoon Wind Power Company Limited to carry out the 600MW Monsoon Wind Power Project in Dakcheung district, Xekong province, and Sanxay district in Attapeu province.
A concession agreement was signed last Thursday between Deputy Minister of Planning and Investment Dr Sathabandith Insysiengmay and representatives of Monsoon Wind Power Company Limited, Mr Nat Hutanuwatr and Mr Niwat Adirek.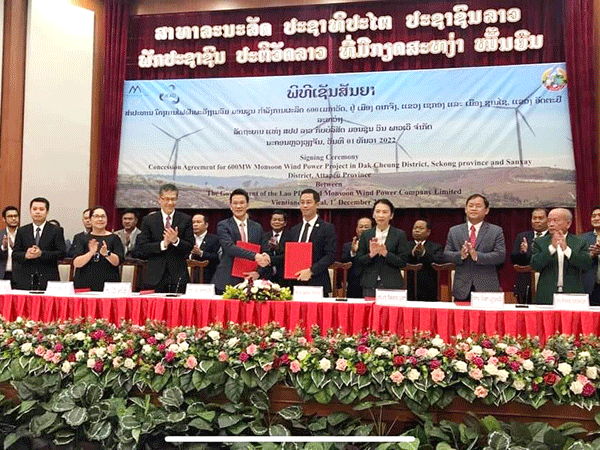 Dr Sathabandith Insyxiengmay (right) shakes hands with a representative of Monsoon Wind Power Company Limited after signing a Memorandum of Understanding last week.
The company signed a memorandum of understanding to develop a wind project with the government 11 years ago. The planned wind farm is the first wind power project in Laos and the largest in ASEAN. It will have an electricity generation capacity of 600MW, all of which will be sold to Vietnam.
The company has invested US$930 million in the scheme and expects to start construction at the end of this year and complete the wind farm in 2025.
The concession period runs for 25 years from commercial operation and covers an area of around 1,000 hectares of land in 25 villages of Dakcheung and Sanxay districts.
The generation of energy from wind power is environmentally friendly and the project will create jobs for local residents, boosting their incomes.
Also in relation to electricity generation, in October the government signed a Memorandum of Understanding on a feasibility study for a solar power farm in Khong district, Champassak province with Homespun Construction Co., Ltd. and Yangzhou Saiyu Environmental Technology Co., Ltd.
The study is estimated to cost about US$130 million and will be conducted over eight months on a 150.47-hectare site.
If approved, it is expected that solar energy panels with an installed capacity of 160MW will be set up on the island, with the number to be increased to a capacity of 500MW if Champassak authorities agree to provide 450-500 hectares of land.
In other areas of development, earlier this year the Ministry of Planning and Investment authorised Aryavart Ship Management Pvt. Ltd. to carry out a feasibility study on maritime management and development, and authorised the Hongkong Tianchi Group Corporation to undertake a feasibility study on a project that would combine agriculture and tourism in Attapeu province.
By Times Reporters
(Latest Update December 7, 2022)