Construction of Thakhek-Vung Ang seaport railway link expected to begin early next year

The construction of a railway line linking Thakhek, the capital of the central Lao province of Khammuan, to Vung Ang seaport in Vietnam's central Ha Tinh province is expected to begin in March 2023, a Lao project developer has said.
If all goes as planned, the construction of the 240-km rail line is expected to be completed by 2026.
This railway is a part of the planned 554-km rail link connecting the Lao capital of Vientiane to the deep seaport in Vietnam.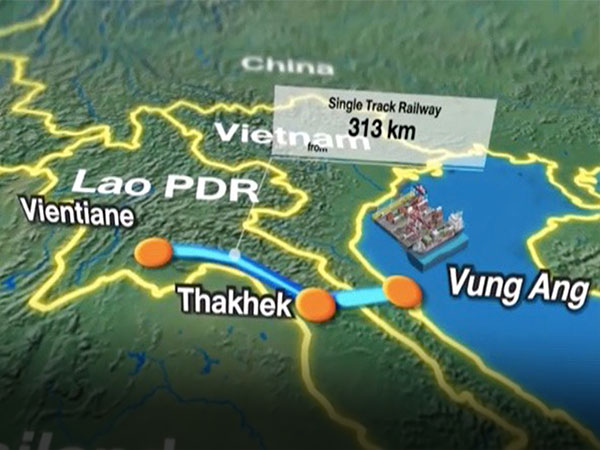 The blue line on the map shows where the planned railway line will link Vung Ang seaport to Thakhek and Vientiane.

The Vientiane-Vung Ang railway and the Vietnamese seaport are part of the packaged Lao Logistics Link (LLL) project. The Petroleum Trading Lao Public Company (PetroTrade) has been given the green light to partner with the Lao and Vietnamese governments to develop and operate this project.
While recently briefing visiting diplomats and business executives from Europe about progress on the railway project, the Chairman of the Board of Directors of PetroTrade, Mr Chanthone Sitthixay, said the 240-km rail link is divided into two sections – one on the Lao side and another on Vietnamese soil.
A feasibility study for the section on the Lao side has been completed and approved by the Ministry of Public Works and Transport. The Lao developer is negotiating a concession agreement with the government that is expeised to be concluded this year.
"We expect to commence construction of the railway from the Lao side to the border [of Vietnam] in March next year," Mr Chanthone told the European delegates.
The Ambassador of the European Union (EU) to Laos, Ms Ina Marčiulionytė, and her team from Europe were briefed about the project while visiting the Vientiane Logistics Park (VLP) and its Thanaleng Dry Port (TDP), which is also part of the LLL project.
Chanthone told the gathering that the International Finance Corporation (IFC) - a member of the World Bank Group, which previously arranged a financing package of US$67 million for the Thanaleng Dry Port - has expressed interest in arranging finance for the construction of the railway.
On the Lao side, PetroTrade will join hands with the Lao government to develop the railway line, with the company holding an 80 percent share.
In Vietnam, PetroTrade will partner with the Vietnamese government and private businesses to develop the railway.
The feasibility study for the section on the Vietnamese side is expected to be submitted to the National Assembly of Vietnam in June 2023 and get approval by September that year.
Construction on the Vietnamese side is expected to begin at the end of 2023.
"It is expected that construction of this project from the Lao side to Vung Ang port will be completed by 2026," the chairman said.
The financial requirement for the construction of the 240-km section is still unspecified. But the whole 554-km single track Vientiane-Vung Ang rail link is estimated to cost as much as US$5 billion, according to a video presentation by the developer.

Once realised, the Vientiane-Vung Ang railway line will link up to the Laos-China railway, which is part of the planned regional rail network connecting China's Yunnan province to Singapore via Laos, Thailand and Malaysia.

By Souksakhone Vaenkeo
(Latest Update December 22, 2022)