Luang Prabang hotels see surge in Chinese visitors

Chinese tourists are filling up hotels in the world heritage town of Luang Prabang, with room reservations expected to rise throughout the year.
Vice President of the Hotel and Guesthouse Association in Luang Prabang province, Mr Daophet Bouphaphanh, said groups of Chinese tourists are entering Laos overland, travelling in organised convoys and individual vehicles.
The number of Chinese tourists has surged since the Chinese government lifted travel restrictions on its citizens and authorised outbound travel on January 8.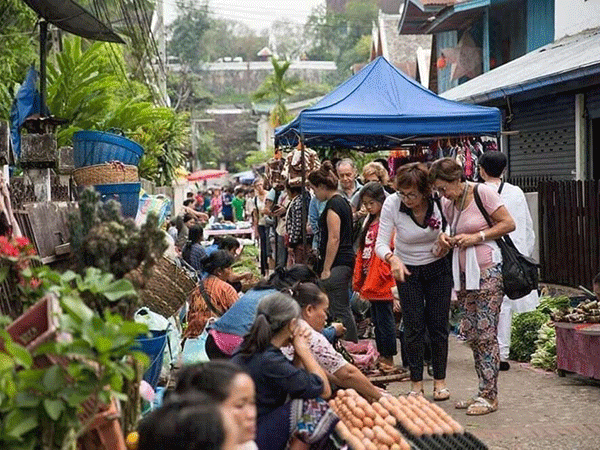 A tour group in Luang Prabang.
Mr Daophet said he expected to see a huge upswing in visitor numbers in the coming months, as flights between Kunming in Yunnan province, China, and Vientiane resumed on February 13, and from Kunming to Luang Prabang on February 19.
In response to the anticipated visitor influx, Mr Daophet said the province's tourism authorities are teaming up with other entities to improve accommodation and hospitality services.
He noted that most hoteliers had plenty of experience and were well prepared to deal with large numbers of tourists.
Many hotels and restaurants in the popular tourist hotspot are hiring staff who can speak both English and Chinese, to cater to visitors from north of the border and numerous other countries.
Authorities at the Boten International Checkpoint on the Chinese border also confirmed that many more Chinese nationals were entering Laos.
Observers say that when the Laos-China Railway is further extended, hundreds of thousands more Chinese tourists will come to Laos.
Laos has been ranked by several media organisations as one of the world's top travel destinations for 2023.
The US-based multinational cable news channel CNN included Laos in its list of 23 best destinations to visit this year, further raising the country's profile in the global tourism landscape.
In November last year, the Association of Thai Travel Agents was quoted in The Thaiger as saying that at least 3 million Chinese are estimated to travel on the Laos-China Railway now that Chinese government has lifted travel restrictions.
By Times Reporters
(Latest Update February 22, 2023)