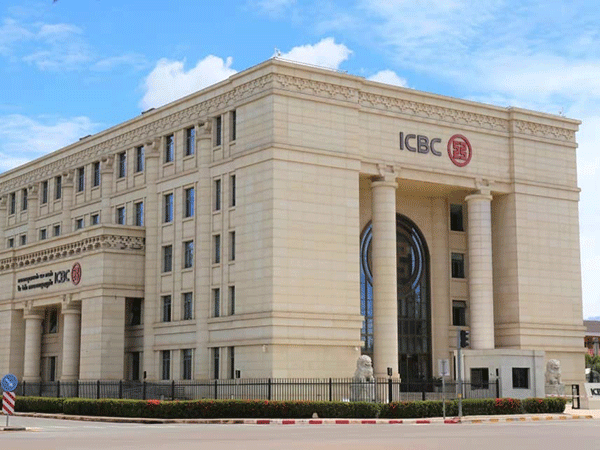 Ideally located at Phonsa-ath village in Xaysettha district, Vientiane, the headquarter of the ICBC Vientiane branch, is set to commence its operation of the Laos RMB Clearing Bank by June this year.
ICBC Vientiane branch accelerates preparation for launch of RMB clearing bank operations

The Industrial and Commercial Bank of China (ICBC) is gearing up to complete preparatory work prior to beginning the operation of the Laos RMB Clearing Bank by June this year.
The ICBC team is now preparing for the launch of this operation under the supervision of the Bank of the Lao PDR (BOL) and authorisation of the People's Bank of China. All the work is being carried out smoothly and in an orderly manner.
Relying on ICBC Group's global and cross-time zone RMB clearing network, the establishment of Laos RMB Clearing Bank will improve the efficiency of RMB payments and clearing in Laos.
It will also provide better RMB clearing, cash and liquidity support to banks in Laos, and facilitate foreign exchange transactions between RMB and LAK and other financial market transaction services.
Thus, it will provide greater convenience for various market entities in Laos to carry out diversified RMB business, improve regional cross-border RMB serviceability and RMB clearing efficiency, facilitate local currency settlement of bilateral trade, and increase the diversification of foreign exchange reserves in Laos.
After assuming its role, the Laos RMB Clearing Bank will abide by all laws and regulations of Lao PDR, adhere to the principles of market-oriented and commercial operations, and work with all parties in Laos to implement local currency cooperation agreements and bilateral currency (LAK-CNY) swap agreements.
It will also encourage more settlement in domestic currencies, which are LAK and CNY, in trade and investment between China and Laos, creating a favourable environment for local currency settlement and injecting new impetus into bilateral trade and investment in order to promote and develop social economics of the two nations.
RMB clearing bank is an overseas institution that provides RMB business clearing services to the majority of banks in countries or regions of the world that have established RMB clearing arrangements.
Currently, 31 overseas RMB clearing banks have been set up in 29 countries and regions, covering the Americas, Europe, East Asia, Southeast Asia, Oceania and Africa.
By the end of 2021, the number of global financial institutions cooperating with RMB clearing banks has reached 950 institutions.
The People's Bank of China and the Bank of Laos signed a memorandum of cooperation in Laos on September 20, 2022 on establishing RMB clearing arrangements.
Later, the People's Bank of China authorised ICBC's Vientiane Branch to act as the RMB clearing bank in Laos as the country has become the 5th Asean member to set up an RMB clearing bank, following Singapore, Malaysia, Thailand and the Philippines.
During a state visit to China by Lao President Thongloun Sisoulith on November 30, 2022, the General Secretary of the Central Committee of the Lao People's Revolutionary Party and the heads of state of China and Laos witnessed this important outcome of financial cooperation.
From 2018 to 2022, bilateral trade exceeded US$15.9 billion, growing at an average annual rate of 15.9 percent. China is currently the largest exporter, the largest source of investment and the second largest trading partner for Laos, demonstrating strong resilience and vitality in economic and trade exchanges between the two countries.
By the end of 2021, the cumulative investment between China and Laos reached US$16.4 billion.
In 2020, the central banks of the two countries signed the Bilateral Local Currency Cooperation Agreement and the Bilateral Local Currency Swap Agreement, which allow the direct use of local currencies in settlement of all current and capital account transactions that the two countries have already liberalised which will help to promote investment and trade facilitation.
China and Laos have enjoyed a long history of exchanges, strong economic complementarity and broad cooperation with fruitful results and bright future.

By Advertorial Desk
(Latest Update May 24, 2023)