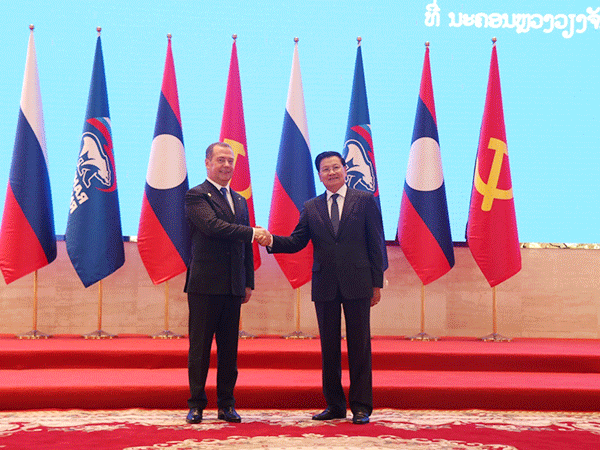 President Thongloun Sisoulith (right) welcomes Mr Dmitry Medvedev.--Photo Paxason Newspaper
Medvedev's visit to Laos yield several bilateral documents
VIENTIANE (TASS) -- A package of documents in the area of inter-party relations and cooperation in the field of education was signed as a result of the visit to Laos by Deputy Chairman of the Russian Security Council and leader of the ruling United Russia party Dmitry Medvedev.
Thus, Medvedev and Lao President and Secretary General of the Lao People's Revolutionary Party (LPRP) Central Committee Thongloun Sisoulith inked a joint declaration of the United Russia and LPRP.
Andrey Klimov, deputy chairman of the international committee of Russia's Federation Council (upper parliament house), a member of the United Russian Supreme Council bureau and a deputy chairman of the United Russia General Council's commission on international cooperation and support for compatriots abroad, and Thongsavanh Phomvihane, Head of the LPRP Central Committee External Relations Committee, signed a protocol on closer cooperation between United Russia and the Lao People's Revolutionary Party (LPRP) for 2023-2025.
Apart from that, an agreement on cooperation was signed between the Russian Gertsen State Pedagogical University and the Lao National University. A memorandum of understanding in the area of promoting the study of the Russian language in Laos was signed between the Tomsk State University and Laos' Ministry of Education and Sport.

By Times Reporters
(Latest Update May 24, 2023)