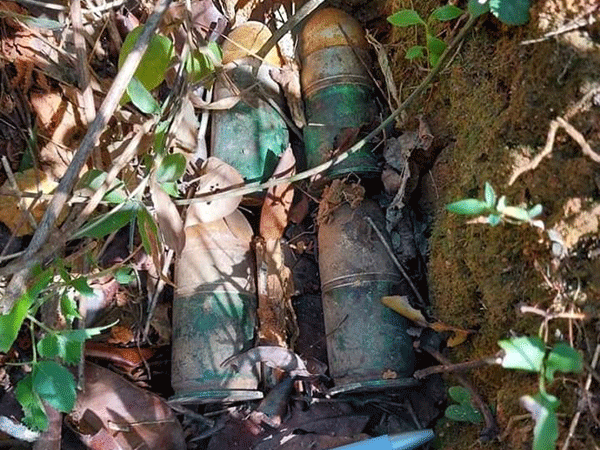 UXO devices found by the Mines Advisory Group. --Photo MAG Lao.
New phase of UXO clearance project begins in Khammuan

The Mines Advisory Group (MAG) has launched Phase VIII of a project to survey and clean up the effects of cluster bombs in Bualapha district, Khammuan province.
The project is implemented by MAG with funding from the Ministry of Foreign Affairs of Norway of US$1,593,068.
A ceremony to launch the project, which involves an integrated survey and clearance of cluster munitions, took place in Bualapha district last week. The event was attended by the Head of the Foreign Department in Khammuan province, Mr Sikhai Khamsavath, Acting Director of MAG Laos, Ms Portia Stratton, and other officials.
A MAG team will search for and examine unexploded devices on farmland and land where development is taking place, in order to allow the socio-economic development of Khammuan province to forge ahead.
This work supports the government's efforts to achieve the goal of sustaining and reducing the effects of long-term unexploded ordnance.
The project has two main components, namely surveys in 11 villages, and UXO clearance in eight villages, which is expected to take place on 196 hectares.
The project is taking place from August 2022 to December 2025.
Mr Sikhai expressed his gratitude to Norway's Ministry of Foreign Affairs for providing assistance and thanked organisations that are close partners and crucial to fundraising efforts to tackle the problem of UXO in Laos.
He highlighted the problem of the effects of unexploded ordnance in Khammuan, which is one of the worst affected provinces, where 316 villages are known to harbour unexploded devices.
Of the 574 villages in the province, unexploded munitions have been found in 72 villages in Bualapha district. Surveys have been conducted on 5,886 hectares of land in 16 villages, 3,003 hectares of agricultural land have been cleared and 600 hectares of developed land have been cleared, with 96,571 explosive devices located and detonated.

By Times Reporters
(Latest Update May 24, 2023)