Education project gives boost to disadvantaged children
The third phase of the Improving and Supporting Education for Children Project has been launched to benefit children in Khammuan, Savannakhet, Saravan and Xekong provinces.
The project cost of more than US$1.86 million is funded by Japanese donors through the Education for Development Fund in Laos (EDF-Laos), which will be operated from the approval date to 2024.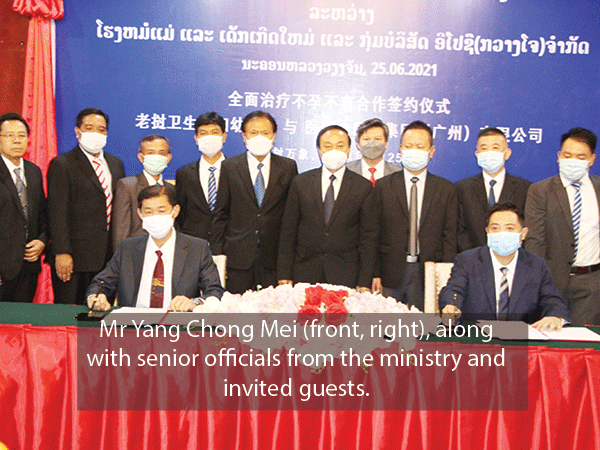 A Memorandum of Understanding on the project was signed on Thursday by the Acting Director General of the External Relations Department, Ministry of Education and Sports, Associate Prof. Dr Silinthone Sacklokham, and EDF-Laos Country Representative, Mr Khamhiane Inthava.
The goal of the project is to bolster socio-economic development in Laos by focusing on the development of education, rural areas, and poverty reduction.
Project activities will support scholarships for disadvantaged students in lower secondary schools and provide bikes for disadvantaged students who live a long way from schools.
The project will build educational facilities such as schools and libraries at lower secondary schools in the target provinces.
The project will provide scholarships to enable students to undergo teacher training and support essential education materials for learning and teaching.
Improving and Supporting Education for Children in Khammuan, Savannakhet, Saravan and Xekong provinces Phase 3 will be managed by the Ministry of Education and Sports and implemented by provincial education and sports departments in cooperation with EDF-Laos team. In line with the socio-economic development policy of the Lao government, the goals of EDF are to contribute to the world's poverty reduction by providing educational support, regional development, and emergency support.
EDF's focus is to assist disadvantaged children, especially by supporting education in rural areas. The group aims to contribute to the development of communities, promote the quality of education by supporting graduate students to take courses in pedagogy and have jobs to help their families, communities, and the country.
EDF contributes teaching and learning equipment and the development of infrastructure related to basic education such as schools, libraries and sports facilities, and promotes awareness of the importance of education among people in rural areas.
From 1997, EDF has provided 11,199 scholarships to primary school students and 19,619 scholarships to junior high school students in 23 districts of Khammuan, Savannakhet, Saravan and Xekong provinces.
By Times Reporters
(Latest Update June 29, 2020)