PM inspects provincial readiness to combat Covid-19

Prime Minister Thongloun Sisoulith travelled to the central province of Khammuan on Thursday where he inspected the readiness of provincial authorities in the battle against Covid-19.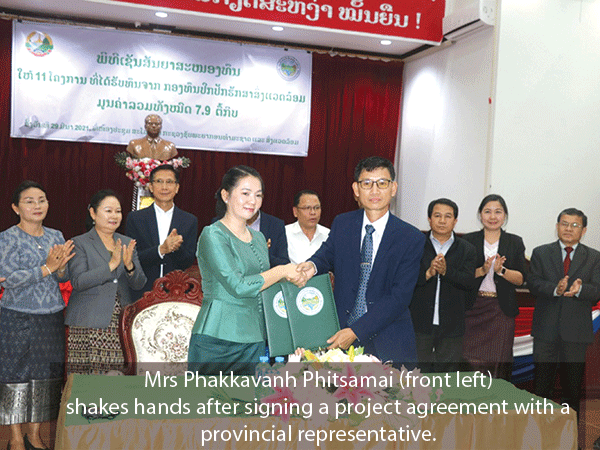 The premier and members of the National Taskforce Committee for Covid-19 Prevention and Control visited the third Lao-Thai Friendship Bridge, which links Khammuan province with Thailand's neighbouring province of Nakhon Phanom.
This international immigration checkpoint has served as a major gateway for large numbers of returning Lao workers from Thailand after they faced job losses following the Thai government's decision to shut down service businesses and other related industries to contain the spread of COVID 19 outbreak.
The provincial authorities imposed strict immigration measures to screen the Lao labour returnees as part of efforts to prevent an outbreak of the disease in central provinces. On top of that, local authorities also quarantined the returnees for 14 days at provincial designated areas.
According to a report from provincial authorities, from March 20 to 25, the 3rd Lao-Thai Immigration Checkpoint welcomed about 7,300 labourers and visitors, which included 2,008 Vietnamese, 4,072 Lao, 1,230 Thai and four Chinese nationals.
After vetting all the labourers and visitors according to the Lao Covid-19 screening regime, four suspected coronavirus cases were isolated. The tests returned three negative results, with one case still being analysed.
Workers with no Covid-19 symptoms are being quarantined for 14 days in 78 locations across Khammuan province, according to the media release from the PM's Office.
In addition to inspecting the immigration checkpoints, Prime Minister Thongloun Sisoulith visited vital infrastructure and facilities to be used in case of a Covid-19 outbreak. He also inspected the temporary Nabo quarantine camp where a large number of the Lao labour returnees were isolated.
While in Khammuan province, Prime Minister Thongloun Sisoulith expressed his appreciation to officials, doctors and medical staff for their significant contribution in implementing the government's policy in the fight against Covid-19. He also urged the labour returnees to extend their cooperation to local authorities so they could effectively control a coronavirus outbreak.
By Ekaphone Phouthonesy
(Latest Update March 27, 2020)