Nation to focus on sustainable, resilient growth
CHINA 9China Daily/ANN) -- Strengthening the sustainability and resilience of development amid protracted uncertainties will be a key focus of China's economic policies this year, officials and experts said.
Targeted policy measures to spur innovation, boost consumption and deepen high-level opening-up this year are set to boost the country's long-term economic momentum, while moderate macro support will further tackle COVID-19-related economic losses and save policy room for any worst-case scenarios, they said.
Their comments came as President Xi Jinping called on Monday for establishing at a faster pace the new development paradigm featuring dual circulation, in which the domestic and overseas markets reinforce each other, with the domestic market as the mainstay.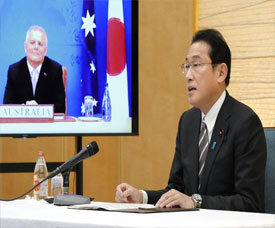 A view of Beijing on Oct 28, 2020.   --Photo IC
Only by improving domestic circulation can China withstand the rapid changes in the international arena, Xi said, urging the nation to always be ready to cope with even more complex and difficult situations.
Xi, who is also general secretary of the Communist Party of China Central Committee and chairman of the Central Military Commission, made the remarks when addressing the opening of a study session at the Party School of the CPC Central Committee attended by provincial and ministerial-level officials.
Xi's call to strengthen awareness of potential dangers has been echoed in recent remarks by China's central bank governor and finance minister.
Pledging to maintain policy continuity and render more support to economic recovery, they also highlighted the need to avoid going overboard and ensure policy sustainability.
The People's Bank of China will prioritize stability in monetary policy this year and "maintain sustainability of the room for conventional monetary policy", Yi Gang, the central bank's governor, said in an interview with Xinhua News Agency released on Friday.
Finance Minister Liu Kun said in a separate Xinhua interview that the country will keep government spending at reasonable levels this year and save policy room for any potential new challenges.
Experts said it would be advisable for Beijing to pursue policy sustainability as major uncertainties linger, such as the risk of a resurgence of the pandemic, rising waves of de-globalization and domestic structural problems.
The country is expected to normalise its macro policy in 2021 in a gradual and cautious manner, with only a modest slowdown in credit growth and a fiscal deficit target at about 3 percent of GDP, versus above 3.6 percent last year, Nomura Group economists said in a note.
While downsizing broad-based stimulus, monetary and fiscal authorities will strengthen targeted support to key sectors this year, such as technological innovation, small businesses, green development and people's livelihoods, according to officials.
(Latest Update January 14, 2021)