14th Lao COVID-19 case returns to hospital
The National Taskforce Committee for COVID-19 Prevention and Control announced on Sunday that 10 infected patients continue to be cared for at Mittaphab Hospital in Vientiane with the 14th infected case also returning for treatment.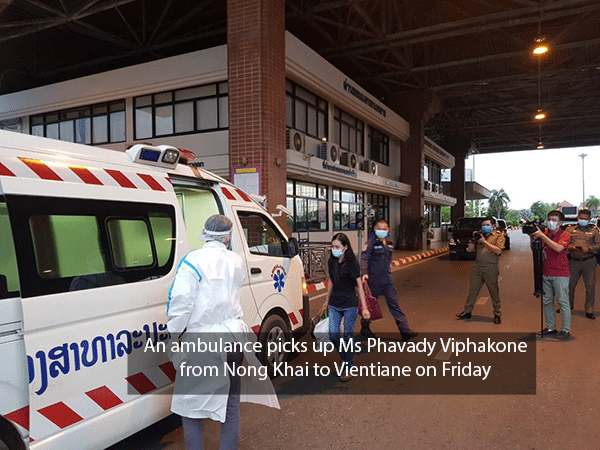 Deputy Minister of Health, Dr Phouthone Muongpak told the daily COVID-19 news briefing that the 14th infected case is an older patient who had been attempting to recover at home for 14 days.
Sunday marked 21 days straight without any new confirmed coronavirus cases. Nine patients have been discharged after they twice tested negative for the virus.
An additional 19 suspected cases were tested on Saturday, but they all came back negative. The number included 15 Lao workers returning from Thailand (six from Savannakhet, three each from Borikhamxay and Champassak, two from Khammuan and one from Saravan province).
From January to May 2, a total of 2,184 samples were tested with 19 confirmed infections.
May 2 saw 613 people including many Lao workers entering the country via border checkpoints from Thailand while 649 truck drivers entered from Vietnam with another 45 truck drivers coming from China. No entries were recorded for Wattay International Airport in Vientiane.
Some 147 quarantine centres were operating around the country housing 639 people with 400 self-isolating at home. Health authorities have tested 514 samples, but no infections were found.
According to the Ministry of Health as of May 3, COVID-19 had spread to 212 countries and territories, with 3,428,425 confirmed cases globally (84,023 new infections). The virus has claimed 243,832 lives while more than 1,093,199 people have recovered.
On May 2 there were 447 new virus infections and 56 deaths recorded among Asean members countries.
By Sangkhomsay Bubphanouvong
(Latest Update May 4, 2020)