French aid supports communities in distress build better lives
Communities in Attapeu and Xekong provinces will receive support from France's Alimentary Aid Programme to recover livelihoods, improve incomes and make it through the lean season with more nutritious diets, well needed given the socio-economic impact of COVID-19.
The project will be implemented by two agencies of the United Nations, the World Food Programme (WFP) and the Food and Agriculture Organisation (FAO).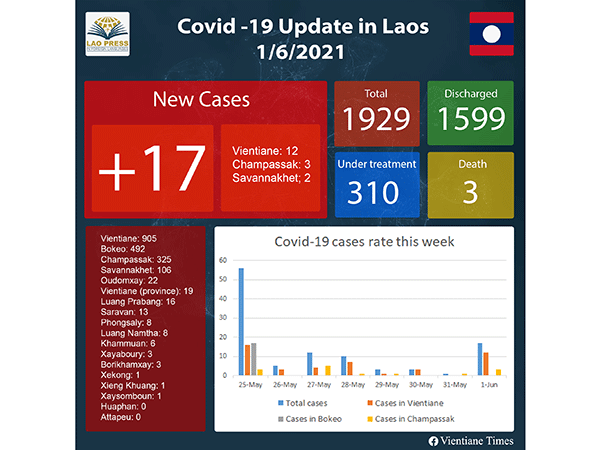 The US$546,000 funding from France, WFP and FAO will support approximately 16,500 people in impacted communities of Attapeu and Xekong provinces.
The 12-month project will address the immediate needs of these communities while helping them become more resilient in the long-term.
WFP will assist communities in identifying infrastructure that needs to be built, repaired or improved and will pay cash to villagers to work on this infrastructure during the months of June to September.
Target infrastructure includes drainage or irrigation canals for flood and drought control, access roads as well as vegetable gardens. This approach will help families add money to their household budgets and get through the lean season.
At the same time, the improved structures will provide communities with more opportunities to earn income and protect them from the impact of climate change events.
FAO will create Farmer Field Schools and support model farmers to increase agricultural productivity and availability of nutritious food in the target communities.
FAO will introduce good agriculture practices such as crop cover, mulch keeping, conservation agriculture, crop rotation for managing soil fertility, pest management using biological means of control rather than chemical pesticides, and varieties of crops that are early maturing and flood tolerant.
FAO will also help communities diversify production, save water, cultivate fish in rice paddies and grow crops and animal feed together in the same field, improve animal breeds and grow climate-smart livestock such as goats and chickens.
Farmers will also learn about basic nutrition and child-feeding practices, receive weather forecasts and information on pests.
This is the second cycle of support provided by WFP and FAO with funding from France for communities in southern Laos in the aftermath of the heavy floods of 2018.
Since February 2020, France, other European states and the European Union are mobilising to bring Laos concerted support to fight against the COVID-19 pandemic.
Villages in many parts of Laos have felt the impact of climate change with a succession of floods and droughts during recent years, which have disrupted their supply of food. The COVID-19 pandemic and the resulting lockdown has exacerbated the situation.
By Times Reporters
(Latest Update June 3, 2020)