Tests, treatment for coronavirus free for general public: authorities
Tests for Covid-19 and treatment for people who have contracted the virus are free for the general public but charges will be made for people engaged in certain areas of business.
"Charges will be imposed on businesspeople and foreign nationals in Laos who are here for work purposes," Deputy Minister of Health, Associate Prof. Dr Phouthone Muongpak, told a press conference on Tuesday.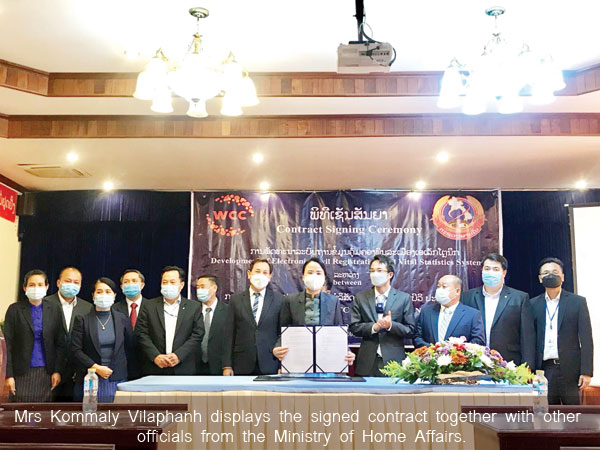 He stressed that ordinary Lao citizens such as Lao workers returning from foreign countries did not have to pay for tests and treatment.
"No payment is required, even during the 14-day quarantine period. People who test positive also do not need to pay anything for their tests and treatment," Dr Phouthone reiterated.
The deputy minister was responding to questions by reporters, as some people are uncertain about the payment categories.
The Ministry of Health recently issued a decision on payments after the government allocated a budget for the purchase of test equipment to supplement that provided by friendly countries and international organisations.
The charges vary depending upon which category individuals fall into.
Lao and foreign nationals (who want to cross a border and have a test) are required to pay 1.2 million kip for each test. This charge also applies to foreign diplomats, staff working for international organisations, Lao and foreign business operators and tourists, foreign workers, and people of any nationality who want a test for personal reasons.
Lao workers leaving the country are also required to pay 1.2 million kip to be screened for Covid-19.
A lower rate of 50,000 kip applies to Lao nationals crossing international and local borders because of illness or emergency medical needs. Official delegations travelling abroad, and students, also fall into this category.
Guests of the Party and State are not required to pay for Covid-19 tests.
Tests to trace people who may have the virus, such as those who have been in close contact with infected persons, are also free, the decision states.
The charges will cover the basic cost of tests and treatment, according to Dr Phouthone, who is Deputy Head of the National Taskforce for Covid-19 Prevention and Control.
His clarification eases the concerns of low-income Lao workers in foreign countries who return to Laos and those under quarantine in centres across the country.
Every day, Lao nationals employed in foreign countries cross the border to return home, according to a report from the taskforce.
On January 5, as many as 2,000 people crossed borders into Laos including 135 Lao workers returning from Thailand.
Currently, 2,246 people are accommodated in 31 quarantine centres. They have been tested for Covid-19 but all the tests were negative.
A total of 41 cases of Covid-19 have been recorded in Laos, with one person still under observation in a Vientiane hospital. No one is known to have died from the virus.
Worldwide, more than 86.7 million people have contracted the virus including more than 1.8 million people who have died.
By Souksakhone Vaenkeo
(Latest Update January 7, 2021)