(From second left to right) Mr Alounkeo Kittikhoun, Mr Chanthone Sitthixay, Dr Viengsavath Siphandone, Mr Zhao Wenyu, Mr Zhang Baoliang and other officials cut a ribbon to start construction of the logistics park.
Ground broken for construction of US$547 million logistics park
Construction of the logistics park, a central component of the Thanaleng Dry Port and Vientiane Logistics Park Project, has begun following an official groundbreaking ceremony on Friday.
Speaking at the ceremony, the Chairman of Vientiane Logistics Park Co., Ltd., Mr Chanthone Sitthixay, said the US$547 million project was part of efforts to fulfil the strategic logistics plan that would help transform Laos from being land-locked to a land link within the region, as well as enable connectivity to the rest of the world.
Being built on a 327-hectare site in Hadxaifong district, Vientiane, near the first Laos-Thailand Friendship Bridge, the world-class logistics complex comprises seven zones, namely a plant and animal quarantine facility, a tank farm, export processing centre, logistics park, free trade zone, technology and halal hub, and administrative and office zone.
Construction of the logistics complex is expected to take two to three years, when services can fully open.
"Once construction of the logistics complex is fully complete, I believe (it) will generate significant benefits for Laos' socio-economy and people," Mr Chanthone said.
In addition, Mr Chanthone said the Thanaleng Dry Port, which opened for service in December last year, had attracted an impressive amount of interest both locally and internationally.

The groundbreaking ceremony to launch construction of the logistics park in Vientiane.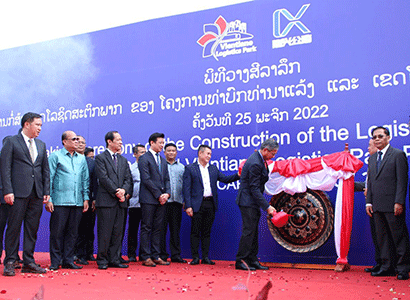 Dr Viengsavath Siphandone strikes a gong nine times to give the project an auspicious start.
Also speaking at the ceremony, Minister of Public Works and Transport, Dr Viengsavath Siphandone, said the logistics complex was significant because it is realising the Party and state's guidelines and vision on logistics development and the creation of a far-reaching land link.
"The project will enhance access to global supply chains, reduce production and transport costs, shorten export times, and strengthen competitiveness," he told guests.
Investors setting up business in the project's zones are eligible for a number of incentives under Lao laws and regulations, as well as enjoying trade privileges offered by major countries on made-in-Laos products.
The minister said he believed that the project, which facilitates trade and business operations through a single-window service, will attract considerable domestic and foreign investment.
"It is expected that [the project] will generate significant benefits to Laos' socio-economic development," Dr Viengsavath said.
He congratulated and praised the Vientiane Logistics Park Co., Ltd. for its success in bringing the Thanaleng Dry Port and Vientiane Logistics Park Project to fruition.
Mr Zhang Baoliang, Deputy General Manager of China's Longxing Highway Survey and Design Co., Ltd., which has been contracted to build the logistics park, pledged that his company would deploy a top quality management team to carry out and complete the project on time, with excellent results.
Also attending the ceremony were Mr Alounkeo Kittikhoun, President of the Executive Board of Strategy and Planning of PTL Holding Company Limited (PTLH), Mr Zhao Wenyu, Counselor of the Economic and Commercial Office at the Chinese Embassy in Laos, and other relevant officials.
Since its inauguration almost a year ago, the Thanaleng Dry Port and Vientiane Logistics Park, which are fully funded by a Lao investor, has increasingly become an important trade gateway between China and other countries in the region.
Housing extensions of the Laos-China and Laos-Thailand railways, the multimodal-transport-mode hub has enabled the shipment of freight with cost-effective services.
Connecting to the China-Europe rail network, containers shipped by rail through Laos can also reach European markets.
As part of the Lao Logistics Link project, which includes the Vung Ang seaport in Vietnam's central Ha Tinh province, the Thanaleng Dry Port and Vientiane Logistics Park can also facilitate the shipment of freight to countries in the Pacific Region.

Related stories
President pushes for logistics links driven by Vientiane Logistics Park
Vietnamese minister visits Vientiane Logistics Park, pledges support for Lao access to seaport via Vietnam
Laos' international standard dry port receives funding boost
By Times Reporters
(Latest Update November 28, 2022)